Atlantic Foods is a proud member of UniPro Foodservice cooperative.  With 900 locations, serving 800,000 customers and a collective sales volume of $60 billion, UniPro is the largest foodservice distribution cooperative in the United States. By providing access to exclusive purchasing opportunities, our UniPro membership assures that we are offering our customers the optimum variety of products at competitive prices.
The UniPro organization is also the nation's #1 foodservice distribution network for the industry's leading national brands. This superior buying leverage is passed on to our customers and is also reflected in the high standards of quality in every case purchased. Atlantic Foods leverages UniPro's procurement team to globally source from suppliers that engage in environmentally and socially responsible practices.
GS1 United States Standards Initiative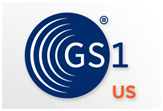 For over 55 years, Atlantic Foods has been focused on reducing supply chain costs. Our involvement with UniPro's GS1 US Standards Initiative is a voluntary, collaborative industry effort seeking to drive waste out of the foodservice supply chain, improve product information, and establish a foundation for food safety through better traceability.
Market Reports
Click on the following web link to view this week's market reports.